oil press with filter
oil filter press  Cooking Oil Filter  Vegetable Oil Filter

Oil filter use matters needing attention:
1, bought all the confidential read the instructions.
2, familiar with the operation of the oil filter, before the operation can be carried out.
3, when the oil filter equipment purification, the use of waste oil containing asphaltene to purify.
4, the oil filter is prohibited without oil heating operation.
5, the ban did not remove water from the dirty oil super fine filtration.
6, the oil circuit for the operation should be opened before the first open and then close the other way.
7, the product pipeline is not allowed to appear oil clogging.
8, when we found the oil filter equipment abnormal sound, smell when we should immediately stop work, find the reasons, in a timely manner, to deal with after the work.
9, oil filter equipment in normal work, when the oil temperature rose to 60 to 80 DEG C deep in general may appear vacuum dropped sharply the situation, this belongs to normal phenomenon tell this is because we in the treatment of oil containing excessive water and cause of.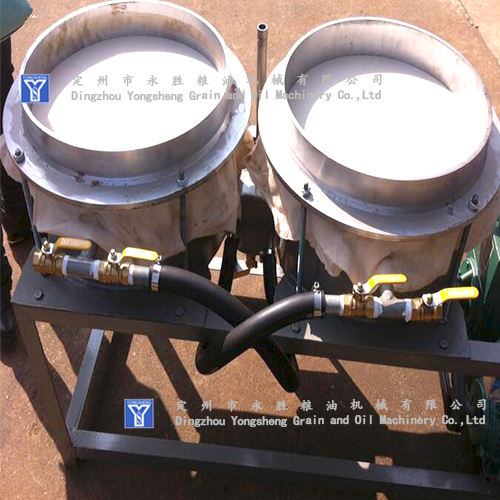 Dingzhou Yongsheng Grain & Oil MachineCompany is Specialized mill of grain and oil facility in Hebei Province. Wehave 10 professional and technical personnel, and 5 senior engineer among them.The area of mill is 35,000 square meter, and capital assets is 15 million. Weown various modern processing machine more than 200 sets, of which iscontrolled-heat by computer for the heat-treated carburizing process, and up tothe national advanced standard,additionally, and the test methods of physicaland chemical inspection for the mechanical properties are complete.
For about 20 years, we designed anddeveloped many specialized machines independently. Such as: YZY400 whole-dayspiral oil extraction press, YZY290 whole-day spiral oil extraction press, YZY260whole-day spiral oil extraction press, YZYB260 oil extraction press, LZY206whole-day spiral oil extraction press, LZY206-2 double-spiral oil extractionpress, LZY126 double-spiral oil extraction press, LZY98 double-spiral oilextraction press, ZY321, ZY281, 204, 202, 200 oil extraction press;YZCLΦ1200-3000*5 floors series of steaming and roasting cooker; 71, 91, 130disc - type hulling machine; 30, 50, 65 pressure filter; 50, 80 single, double,triplicity oscillating screen machine; Triplicity cylinders oil pump kinds ofconveying equipment and also all these components for all machines.
And we also undertake adapt of 202 from200, modification of 204 pre-press expeller, and it is successful for more than200 sets. We supply specialized spiral in expeller to our customer forhigh-oil-content plant, mainly as rape seed, peanut, sunflower seed, pepper,rice bran, corn germ, castor-oil plant etc. They are becoming popular withsolving the problem of high residual oil rate.
All our components used are made from highquality steel, 30% of life-span more than others common components. They arequalified of abrasion resistant spiral for expeller in all middle and big oilfactory. We can take on the whole project from the design, manufacture,installation, commissioning of the complete plant of pre-press oil extracting,leaching, refining. And it is approved in many big oil mills home and abroad,such as Russian Federation, Bulgaria, Argentina, Armenia, Syria, Burma, Vietnamect.
Our principle is supply high qualityproducts and sincerely service.Our aim is constantly develop new products torun long term. The products are reliance deeply by our customers.We aredeveloping strongly particularly in recent years, herewith we hope canestablish close collaboration with you to achieve mutual benefit for all.
Oil Press with filter
oil filter press  Cooking Oil Filter  Vegetable Oil Filter

Looking for ideal Oil Filter Press Manufacturer & supplier ? We has a wide selection at great prices to help you get creative. All the Cooking Oil Filter are quality guaranteed. We are China Origin Factory of Vegetable Oil Filter. If you have any question, please feel free to contact us.
Product Categories : Cooking Oil Processing Equipment > Refinery Machine