Solvent removal machine price
plant oil extraction equipment
oil extraction process
plant oil extraction
Advantages of solvet evapor:
Steam offline extraction equipmentextraction plant is wet meal exsolution and passivation meal key equipmentanti-nutritional factors. Our many years of practice under the guidance of newand efficient DTDC perfect steam offline leaching equipment, set off thesolvent, drying, cooling in one, simple, stable product quality:
1. Unique vapor permeability plate design,mixed vapor distilled from the upper rows evenly penetrate the material layerdelamination, and does not fall from the wet steam holes meal mixed vapor vaportemperature can be reduced to 700C, not only off the solvent effect good, andsave a lot of direct steam, reducing the load of the condenser condensate;
2. steamed delamination blanking, blankingautomatic control valve to ensure constant steam delamination material leveland sufficient exsolution and steamed delamination and lower drying layerseparated to avoid the production of a small amount loss caused by the solventgas downward;
3. steam offline leaching equipment using afixed spindle bearing fixed on a spindle head and push the lower shaft bearingfixed head. Avoid the mixing blade shaft and rotating weight and material areunder the pressure of the reaction force to the gear, causing gear damage, notlong life and energy consumption and so on. Rolling on the shaft with the headfixed in steam offline leaching external devices, once the damage is very easyto replace;
4. Advanced automatic charging door system,all rolling bearing design, flexible operation, long life, good location,effectively avoiding solvent leakage. Steam offline leaching equipment wet theupper part of the trap imported atomizing nozzle, the mixed gas of steamoffline leaching equipment efflux of a maximum amount of trapping fine mealpowder, in favor of a steam heat transfer effect, to avoid the oil meal by afurther steam into the sub-tank caused a series of problems.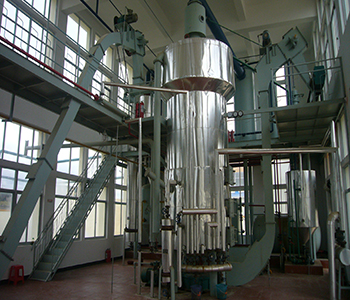 Dingzhou Yongsheng Grain & Oil MachineCompany is Specialized mill of grain and oil facility in Hebei Province. Wehave 10 professional and technical personnel, and 5 senior engineer among them.The area of mill is 35,000 square meter, and capital assets is 15 million. Weown various modern processing machine more than 200 sets, of which iscontrolled-heat by computer for the heat-treated carburizing process, and up tothe national advanced standard,additionally, and the test methods of physicaland chemical inspection for the mechanical properties are complete.

For about 20 years, we designed anddeveloped many specialized machines independently. Such as: YZY400 whole-dayspiral oil extraction press, YZY290 whole-day spiral oil extraction press, YZY260whole-day spiral oil extraction press, YZYB260 oil extraction press, LZY206whole-day spiral oil extraction press, LZY206-2 double-spiral oil extractionpress, LZY126 double-spiral oil extraction press, LZY98 double-spiral oilextraction press, ZY321, ZY281, 204, 202, 200 oil extraction press;YZCLΦ1200-3000*5 floors series of steaming and roasting cooker; 71, 91, 130disc - type hulling machine; 30, 50, 65 pressure filter; 50, 80 single, double,triplicity oscillating screen machine; Triplicity cylinders oil pump kinds ofconveying equipment and also all these components for all machines.

And we also undertake adapt of 202 from200, modification of 204 pre-press expeller, and it is successful for more than200 sets. We supply specialized spiral in expeller to our customer forhigh-oil-content plant, mainly as rape seed, peanut, sunflower seed, pepper,rice bran, corn germ, castor-oil plant etc. They are becoming popular withsolving the problem of high residual oil rate.

All our components used are made from highquality steel, 30% of life-span more than others common components. They arequalified of abrasion resistant spiral for expeller in all middle and big oilfactory. We can take on the whole project from the design, manufacture,installation, commissioning of the complete plant of pre-press oil extracting,leaching, refining. And it is approved in many big oil mills home and abroad,such as Russian Federation, Bulgaria, Argentina, Armenia, Syria, Burma, Vietnamect.

Our principle is supply high qualityproducts and sincerely service.Our aim is constantly develop new products torun long term. The products are reliance deeply by our customers.We aredeveloping strongly particularly in recent years, herewith we hope canestablish close collaboration with you to achieve mutual benefit for all.




Solvent removal machine price

plant oil extraction equipment oil extraction process plant oil extraction




Looking for ideal Plant Oil Extraction Equipment Manufacturer & supplier ? We have a wide selection at great prices to help you get creative. All the Oil Extraction Process are quality guaranteed. We are China Origin Factory of Plant Oil Extraction. If you have any question, please feel free to contact us.

Product Categories : Cooking Oil Processing Equipment > Solvent Extraction Equipment