Introduction:
Vibration Cleaning Sieve is suitable for cleaning raw grain for grain processing plant and grain storage. The sieve of different specification can separate large, small and light impurities from wheat, paddy, corn and oil bearing materials.
It is designed with double-decked sieve, and good seal. It has much better effects especially for big impurities contained in grain. It is also used for granule separation in food and chemical industry. The machine is beautiful, smooth movement, low energy consumption, low noise, high efficiency, good sealing and cleaning efficiency.
Product Description
Seed from harvesting machines or hand collections will include a mix of stems, leaves, chaff, appendages, empty glumes, and seeds of various sizes and quality. The extraneous materials must be removed to insure a quality product and to allow uniform dispensing through seeding equipment.
Application of Basic Seed Cleaning Screen
Pre-cleaning is the rapid removal of excessive, extraneous materials by pre-cleaner, which is used to remove large trash, stems, leaves, and associated chaff prior to basic cleaning.
Working Principle of Basic Seed Cleaning Screen
1. Grain flows into dedusting bin from silo by a Bucket Elevator;
2. A fan sucks out the relatively light sundries like dust, stove, rice chaff and bran;
3. Then grain flows onto a flat screen that is set at a slight incline and vibrated mechanically;
4. Large trash is removed as the seed fall through the holes in the first screen and onto a second screen;
5. The second screen traps the seeds and moves them to a hopper as smaller trash falls through the holes and discharged from another hopper.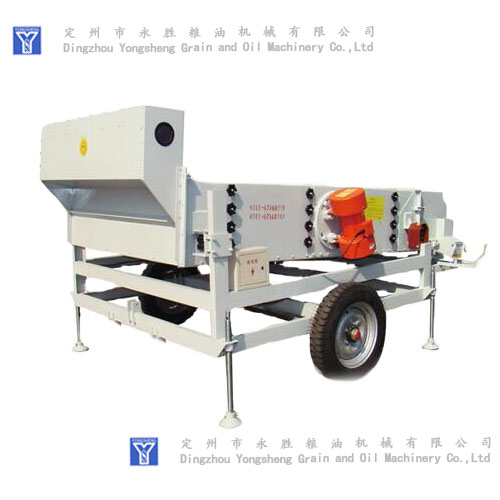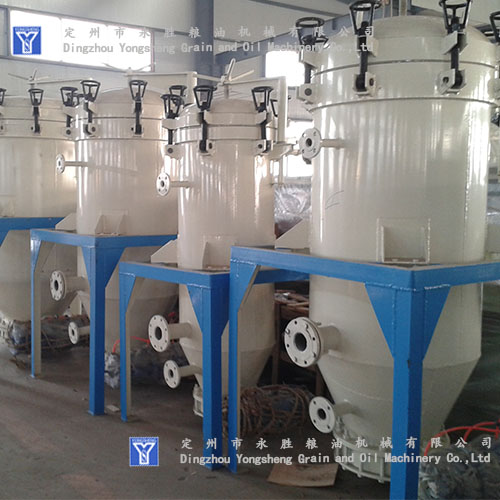 DingZhou YongSheng Grain and Oil Machinery Co., LTD is a professional company combining research and development design, production and sales as a whole. The company has first-class oil equipment manufacturing base, professional oil technology engineer and professor, possesses advanced production technology and sophisticated equipment, All the mechanical parts are manufactured by our company.
The complete sets of oil equipment that we manufactured, relying on many domestic scientific research institutions. Advanced technology, suitable for making all kinds of plant oil. From the raw material of cleaning up, prepressing, leaching, refining and the production processing of by-product (such as Phospholipids engineering, protein engineering), is totally a dragon design and production, has created considerable economic benefit and social benefit for the user and society more than 40 years. Company new development of biodiesel equipment technology in recent years, has put dozens of sets on the market, obtaining good economical benefits both In the domestic and overseas. At present, we have hundreds of successful installation operation of the oil equipment engineering experience, can design and product according to the difference of the user's economic condition. raw material regional, install oil equipments.
YongSheng comapny with scientific management method, strives for perfection the manufacturing process, innovative manufacturing idea, fast grows and become the grain and oil machinery production and export base in China. Company products are exported to Russia, India, Nepal, Indonesia, South Africa,Tanzania,Ethiopia,Ukraine, kazakhstan, Pakistan, Iran, north Korea, Vietnam, France and the European Union and so on more than 30 countries and area.